For water sport enthusiasts!
All at your disposal: windsurfing equipment, sailing boat and catamaran hire. Courses also offered!
> Water sports
Bicycle hire!
Hire of high-tech mountain bikes on location!
> Prices
Attractive discounts!
We will grant you a discount for a reservation of more than 14 days!
Fragen Sie uns!
> Contact
Family-friendly!
No accommodation charge for children under 3 years; children under 12 only pay half price!
> Prices
Come visit us!
We are pleased to welcome you!
> To book
Driving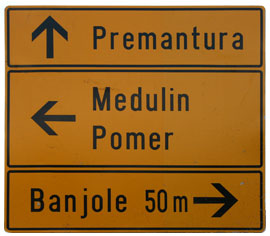 Going to Premantura
Required travel documents and entry regulations
The following documents are required when driving to the country: driving licence, car registration booklet, international motor vehicle insurance certificate (a green card). Personal objects and currency can be brought into the country. EU citizens require an identity card for a stay of up to 30 days; a passport is required for a duration of up to 90 days. Minors need either an identity card with a picture or a children's passport.
The speed limit is
50 km/h through towns and villages
90 km/h on country roads
110 km/h on the highway
130 km/h on the motorway
80 km/h for cars with a caravan
80 km/h for buses with or without a trailer
Speed should be reduced on wet roads and adapted accordingly.
Mobile phone use while driving is not permitted.
The wearing of seat belts is compulsory.
Car lights must be switched on in the daytime as well.
A zero alcohol level is law for drivers.
Toll
Toll is charged for motorways and some bridges in Croatia. The cost for cars and motorbikes is approx. 1.50 € per 100 km.
Filling stations
Petrol stations are normally open from 7 a.m. to 7 or 8 p.m. daily – and till 10.00 p.m. in the summer months. Filling station in large towns and along the main roads are open 24 h a day. Unleaded petrol is called "bezolovni 95", super "super benzin" and euro diesel is "eurodizel".
Car ferries
Local car ferries cannot be reserved in advance in Croatia. Tickets are to be bought at the respective harbour. Ferries travel regularly to the bigger islands (e.g. Rab, Losinj, Pag, Brac, Pasman, Hvar…) during the high season.