For water sport enthusiasts!
All at your disposal: windsurfing equipment, sailing boat and catamaran hire. Courses also offered!
> Water sports
Bicycle hire!
Hire of high-tech mountain bikes on location!
> Prices
Attractive discounts!
We will grant you a discount for a reservation of more than 14 days!
Fragen Sie uns!
> Contact
Family-friendly!
No accommodation charge for children under 3 years; children under 12 only pay half price!
> Prices
Come visit us!
We are pleased to welcome you!
> To book
Food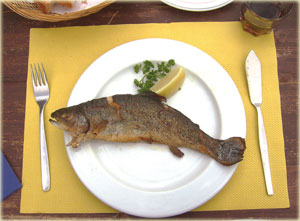 Maritime delicatessen just served
The food...
The Istrian coastline is well known for fine fresh seafood. In addition, the sea around Premantura is rich in crab – and if
booking
, with us in the spring, you will find excellent crab at very favourable prices at the many local restaurants and popular
fish market
in
Pula
. Mussels, sea bass, oysters, sole, sardines, dragon-fish, gilt-head bream, sweet scampi or sea spider all make up Istria's delicious maritime cuisine. The region's olive groves are legendary; wild green asparagus used for salads, risotto and egg dishes grow in mushroom-rich forests; black and white truffles thrive in the fertile soil in both spring and autumn. Everything that grows in the fields can be found freshly harvested and favourably priced at the market in Pula. In the market halls, numerous meat stands sell their products at discussable prices. Besides typical specialities such as lamb and Ćevapčići, the Istrian cuisine holds Dalmatian smoked ham (Pršut), tasty sheep's cheese, delicious legs of meat, peppered Slovenian sausages along with other typical European foods.
...Beverages
Two principal types of soil on the Istrian Peninsula are suited for wine growing: the red earth (terra rossa) and marl (known as white earth). Connoisseurs say the red earth is ideal for the cultivation of top-quality red wines whereas the marl earth is good for white wines. The wines are considered to be excellent quality. They mainly originate from new wine-growers who belong to a quality surveillance cooperative. Of the many different types found in this area, the white Istrian Malvasia is the most significant – and can be found everywhere in Istria. It is straw-yellow in colour, has a Acacian blossom scent accompanied with harmonious temperate freshness and good bodiness. Just as typical in Istria is Teran, from violet to ruby-red in colour, with a lively fruity scent. It is exceptionally delicate, crispy and light-bodied. Popular red wines in the coastal regions are Teran, Merlot, Kabernet, Opolo, Plavac, Dingac and Postup. The white wines are Malvazija, Pošip, Pinot, Kujundzuša and Muškat. Two types of Muskat wine of exceptional aroma are of particular interest to connoisseurs: the Momjan Muskat and the Muskat rosé from Poreč. Two popular after meals drinks are Prosseccio and Maraschino.