For water sport enthusiasts!
All at your disposal: windsurfing equipment, sailing boat and catamaran hire. Courses also offered!
> Water sports
Bicycle hire!
Hire of high-tech mountain bikes on location!
> Prices
Attractive discounts!
We will grant you a discount for a reservation of more than 14 days!
Fragen Sie uns!
> Contact
Family-friendly!
No accommodation charge for children under 3 years; children under 12 only pay half price!
> Prices
Come visit us!
We are pleased to welcome you!
> To book
The surroundings
Pula
The town of
Pula
(only 10 km from
Premantura
) is considered the jewel of
Istria
. It was founded over 3000 years ago and looks back on a rich history. The strong architectural influence brought by the Venetian rulers who once governed here can still be seen today. A walk around the city is like a journey through time beginning with antiquity and moving through to the present day: you will see Roman monuments and temples, Venetian Renaissance palaces, classicism, art nouveau and modern high-rise buildings. A good view of the town and surroundings can be enjoyed from the Venetian fort in the town centre where the Museum of History is also located. Equally worth visiting is the Archaeological Museum which has an impressive collection of artefacts and a marvellous garden with a wonderful lapidarium (sculptured stones), and the Triumph Arch of the Sergi, the Augustus temple and the Roman theatre are more fascinating sites to name but a few. The remarkably well-preserved Roman amphitheatre, called the Pula Arena, dates back to the 1st century and was one of the biggest ancient Roman arenas. It is still used today to stage various events such as concerts or the international Pula film festival.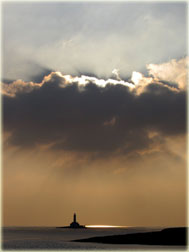 Cape Kamenjak:
The Porer Lighthouse
Kamenjak
Cape Kamenjak (approx. 9.5 km long and up to 1.5 km wide) lies south of Prementura and possesses a unique flora and fauna. The cape itself is surrounded by numerous small islands which themselves are equally attractive. Dense pine forests, romantic and remote rock and pebble coves invite the visitor to experience unspoiled nature. Windsurfers, divers, bathers and sun worshippers hold this area in high regard, particularly the beautiful beaches with their clear turquoise-blue water that run along the 30 km long coast. As well as meadows and macchia trees, you will find over 500 types of Mediterranean plants all within this region. And more than 20 different kinds of wild orchid, including serapis istriaca, are also worth seeing during a day's visit.
The sloping ground is ideal for walking and
cycling
either on one's own or with a guide as the whole of Cape Kamenjak is criss-crossed with paths - and as some roads, several of which lead to coves, are closed for cars. The 'Safari Bar' right at the bottom tip of the cape is there to welcome thirsty walkers and bathers. From here you can look upon Istria's most southern point: the lighthouse on Porer Island. Close to Porer Island lies the Fenolia Island where dinosaur footprints have been found.
See the
picture gallery
for more images...